Biographical entry:

Gina, Lloyd Maepeza (1935 - 2007)
Born

5 May 1935

Died

May 2007
Details
Lloyd Maepeza Gina was born on 5 May 1935 at Munda in the New Georgia Islands. One of thirteen children, his mother Mary Roni and father had connections to Isabel, Simbo and Choiseul. His father was Belshazaar Gina (q.v.), a Methodist minister and later well known as a teacher and Headmaster in Honiara. During the Second World War, the children hid inland with their mother. After the war Lloyd began to attend school, at Wana Wana Lagoon for a few months, until his father took the family to Nusa-Simbo village on Simbo Island. Next, he spent some time with Rev. John Goldie (q.v.), who had returned as an old man to Patutiva after the war and needed a guide. In 1946, he travelled with his father to Honiara where he was a clerk at the Hospital. His father arranged for his son to attend Methodist Lelean Memorial School in Suva, Fiji. He arrived there in September 1947 and in 1948 began to study in earnest. He spent five years at Lelean paid for by his father, and four years at Queen Victoria School in Suva, from 1952 paid for by the Protectorate Government. His father spent 1952 at Nasinu, Fiji, to train as a schoolteacher, the first contact that Lloyd Gina had had with the Solomons in years, other than from a visit from the by then very frail Goldie who was returning to New Zealand.
After his school years Lloyd returned to Honiara where his father was in charge of Honiara Government Primary School. He joined the public service and in May 1956 was posted to the District Administration in Gizo, where he remained until 1963. In February 1959, he married Olive Eaduri, granddaughter of Harry Wickham (q.v.), son of Frank Wickham (q.v.). Her father, Reuben Lerabangara, had been chief steward to the Resident Commissioner in Honiara until his retirement in 1947.
Much of Gina's work at Gizo involved touring with the District Officer or District Commissioner as a clerk and interpreter, and he was also involved with the Gilbertese resettlement at Titiana on Gizo Island and on Vagena Island. Gina also worked as Customs Officer. In 1963, he applied to become an Assistant Administrative Officer (Cadet) and was posted to Auki, Malaita under District Commissioners Derek Cudmore and Dick Turpin (1963-1965). His next post was on Guadalcanal under District Commissioner James Tedder (q.v.), where he and Fred Osifelo (q.v.) were sent to Avuavu to survey the site for a new airfield, where he met Moro (q.v.). There was no house available for him in Honiara, which caused his family to remain in Gizo. He was promoted to Assistant Administrative Officer and sent to Kirakira, Makira (1966-1968), where his family joined him. In 1968, Gina attended a course at the International Training Centre in Canberra, Australia, and visited Papua New Guinea to study local government before returning home.
Back in Honiara, Lloyd Gina argued that he should be given a stable posting rather than being constantly transferred, which was disturbing to his family life. He was then appointed as an Executive Officer in Central District with responsibility for Nggela, Savo and the Russell Islands. In 1971, he returned to Fiji to attend a senior course in public administration at the University of the South Pacific. Upon his return he was made District Officer for Western District, and was involved in creating one central Local Government Council there. He was transferred back to Honiara in 1973 as Secretary to the Local Government Committee of the Governing Council (q.v.), a position which ended when the Governing Council was replaced by the Legislative Council (q.v.) in 1974. Gina's next position was as government liquidator for a logging company, and then as Assistant Secretary, first in the Ministry to Health and Medical Services and then the Ministry of Finance. In 1976-1977, he took over from Peter Kenilorea (q.v.) as District Commissioner for Eastern District and was subsequently appointed Chief Administrative Officer of the Ministry of Natural Resources. He became the first Speaker of the National Parliament in August 1978, a position he held until 1988, and he was knighted in 1990. Sir Lloyd Maepeza Gina died in late May 2007. (NS 31 Jan. 1968; Gina 2003)
Related entries
Published resources
Books
Gina, Lloyd Maepeza, Journeys in a Small Canoe: The Life and Times of a Solomon Islander, Judith A. Bennett;Khyla J. Russell, Institute of Pacific Studies, University of the South Pacific; Pandanus Books, Suva; Canberra, 2003. Details
Journals
British Solomon Islands Protectorate (ed.), British Solomon Islands Protectorate News Sheet (NS), 1955-1975. Details
Images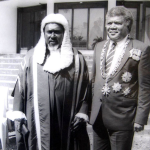 Title

Lloyd Maepeza Gina, first Speaker of the National Parliament and Sir Baddeley Devesi, first Governor General, 1978

Type

Image

Date

1978

Source

SIG