Biographical entry:

Moro, Pelise (1920s - 1962)
Born

1920s

Died

1962
Details
Pelise Moro was born in Makaruka Village on the Weathercoast of Guadalcanal in the late 1920s. Much of his childhood was spent in his mother's village of Suhu, east of Makaruka. His father was a bigman in Makaruka with important ritual powers, which Moro inherited. Moro was baptised Catholic but did not attend school and was illiterate. He stayed in his village during the Second World War but spent a year at Tulagi with his friend Bubuli at the end of the war, working for the Americans on dismantling their facilities there. He returned to the Weathercoast at a time when Maasina Rule (q.v.) was expanding, but took no part. Next, he worked for two years as a plantation labourer on Russell Island and for three years as a garden labourer for the government in Honiara.
In 1956 Moro fell ill, recovered, and afterwards began to recite stories and visions with an emphasis on the origins of Guadalcanal and the rights of its people. He claimed to be a paramount chief in the line of Tuimauri, which he said gave him absolute right over Guadalcanal, which he called Isatabu. As paramount chief, Moro had responsibility for district chiefs. Davenport and Çoker (1967) reported that Moro's vision was of seventeen traditional chieftianships: Makaruka-Louvi; Louvi-Longgu; Longgu-Nugulasi; Talise-Kuma; Kuma-Koleula; Koleula-Pichukoiko-Tatau; Vulugau-Halagavatu; Inabeti-Tetere-Latimarau; Haivati (Mt Popomanetseu); Inatita-Kaichui; Inahoba; Balo; Guva-Kopiu; Kopiu-Tarariua; Tarariua-Bali; Manunu-Rere; and Tiviale-Koli. The villages under the Moro Movement were Veuru Moli; Longgu; Talise; Koleula; Suta; Tanapoi; Malango; and Lau. These were the main areas of support for the Moro Movement, also known as the Moro Custom Company. Moro dictated documents on the history of Isatabu, which secured his place as the paramount chief of the island. He claimed descent from the founding ancestor Ironggali and his successor Tuimauri, defined the role of chiefs as defenders of law and development, defined customary land boundaries, and denied the British concept of waste and vacant lands.
The movement was at its height in the late 1950s and the 1960s, when it incorporated half of Guadalcanal and probably three to four thousand people. Moro had a Council made up of advisers and clerks, and maintained a 'Custom House' or 'House of Antiquities'. The movement collected taxes and attempted to be self-governing which was similar to Maasina Rule.
Moro's mother died in 1962, the same year that he married a woman from an inland district, with whom he had two children. Moro died in 2006. His Moro Movement was the inspiration behind the Isatabu Freedom Movement of the 1990s and early 2000s. (Davenport and Çoker 1967; Davenport 1970; http://en.wikipedia.org/wiki/Moro_Movement [accessed 17 June 2011]; Kenilorea 2008, 180)
Related entries
Published resources
Books
Kenilorea, Peter, Tell It As It Is: Autobiography of Rt. Hon. Sir Peter Kenilorea, KBE, PC, Solomon Islands' First Prime Minister, Clive Moore, Centre for Asia-Pacific Area Studies, Academia Sinica, Taipei, 2008, xxxvi, 516 pp. pp. Details
Book Sections
Davenport, William H., 'Two Social Movements in the British Solomons that Failed and their Political Consequences', in Marion W. Ward;Susan C. Tarua;May Dudley (ed.), The Politics of Melanesia, Fourth Waigani Seminar, Research School of Pacific Studies, Australian National University and the University of Papua New Guinea, Canberra and Port Moesby, 1970, pp. 162-172. Details
Journal Articles
Davenport, William H., and Çoker, Gülbün, 'The Moro Movement of Guadalcanal, British Solomon Islands Protectorate', Journal of the Polynesian Society, vol. 76, no. 2, June, pp. 123-175. Details
Images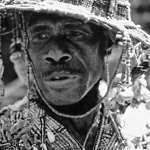 Title

Photograph was taken at Makaruka in March, 1978. Moro was wearing his finery for his appearance in the SI Independence film, Iumi Nao.

Type

Image

Date

1978

Source

Mike McCoy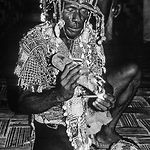 Title

Photograph was taken at Makaruka in March, 1978. Moro was wearing his finery for his appearance in the SI Independence film, Iumi Nao.

Type

Image

Date

1978

Source

Mike McCoy