Concept:

Sports
Details
Solomon Islanders engaged in sports before the days of the British Protectorate, although they were not formally designated as recreational and usually related to everyday activities. Training for warfare began when boys practiced spear throwing and use of bows and arrows and other weapons, and practiced hand-to-hand combat. Wrestling is said to have been popular in pre-British times on the Melanesian islands. Wrestling continued on Rennell and Bellona, and tika, a team spear-throwing competition continued on Tikopia and Anuta islands. Women also played games related to their traditional activities. (AR 1969, 86) The Australian 'crawl' swimming stroke had its origins in Roviana Lagoon (q.v.) in the Western Solomons, and was made famous in Australia by the Wickham brothers (q.v. Alick F., Edward, and Harry).
Solomon Islanders began to participate in Western sports while based on plantations in Queensland and Fiji in the nineteenth century and on plantations, missions and government stations within the Protectorate early in the twentieth century. Solomon Islanders were playing cricket in 1894 at Norfolk Island and the next year a Norfolk team visited New Zealand. Melanesian Mission students brought cricket back home with them and played on beaches and amongst coconut palms on plantations. Balls had to be manufactured out of cloth ribbons or string bound around a wooden ball, and bats and stumps were whittled out of wood. The first good cricket grounds were at Gavutu and Makambo, where the Levers and Burns Philp employees played on most days, and also mounted special challenge matches with the crews of visiting warships. Bishop Cecil Wilson (q.v.) recorded that the first cricket match between Solomon Islanders and a European team was played in 1897 against the crew of HMS Pylades. (Wilson 1912) Cricket was being played at the Anglican Mission at Ngorefou in the Lau Lagoon on Malaita in 1902. (Hopkins 1904a, 1905)
British traditions meant that soccer, rugby football, cricket and tennis were early games, played on the government and mission stations. For instance, cricket and tennis were played at Auki government station in the 1910s, although the tennis court was only for Europeans. (Edge-Partington album 4, dscn 1050, and album 5, dscn 1080, British Museum) The situation had changed by 1937, when the Auki locals played cricket (and won) against the crew of the HMS Leith. (BSIP 27/VI/1 Malaita Annual Report 1937, 31) The Annual Reports from the districts show that in the late 1930s the police regularly played cricket and football against local teams. By then, Tulagi had the best sporting facilities with tennis courts and an eight-hole golf course.
Once Honiara became the capital after the Second World War sporting activities began there. The first local Honiara soccer team was the Melanesian Team in 1946, with Albert Kuper as Manager. The first meeting was held at 'Number 9', the Central Hospital in Honiara. The team colour was yellow, made from dying the team singlets in a bucket with Atebrin tablets from the hospital dispensary. (Albert Kuper to editor of Kakamora Reporter Sept. 1970) In 1951, the first indigenous soccer team travelled to New Zealand on the Southern Cross (q.v.), and played barefooted against New Zealand teams. A Honiara Football League was organised in 1957 and used the Rove police grounds for practice and games.
Sports soon became a central part of Solomon Islanders' lives and large crowds watched Sunday afternoon football matches. In the 1950s, the Anglican Church had an early team, as did the Public Works Department, and others formed soon after. (Montford 1994, 95) The first meeting of the British Solomon Islands Amateur Sports Association was held on 8 August 1961, with a committee chaired by Eric V. Lawson (q.v.); another on 20 October fully inaugurated the Association. The first aims were to send representatives to the 1st Pacific Games in Suva in 1963, to establish a full-sized sports ground at Kukum in Honiara, and to create better sporting grounds in the districts. Placid Walekwate of St. Joseph's School in Tenaru and Constable Walter Ningalo were selected to attend the Papua New Guinea Inaugural Games in Lae in October 1962.
The eventual team sent to the Pacific Games consisted of fifteen soccer players, nine track-and-field athletes and a Manager: Solomon K. Dakei (q.v.) (Manager), Cornelius Vulumu (Medical Officer), I. A. Fraser (Manager Athletics Team), Placid Walekwate (Captain, Athletics Team), W. Ningalo, J. Sagabule, E. Anderson, W. Paia (q.v.), S. Olistation, S. H. Waura, S. Fafale, M. Walerefoa, J. G. Taylor (Manager, Soccer Team), P. Beni, P. Bopali, J. Buare, Johnson, Joshua, B. Konare, J. Mabulou, M. Natei, A. Palusi, D. Samani, E. Sunaone, V. Taronisau, J. Taylor, D. Vabo, and C. Rafiasi.
The basic preparation of Lawson Tama-originally called the Town Sports Ground-was completed in early 1964, to be jointly managed by the Town Council and the Amateur Sports Association. A pavilion and various sporting facilities were planned.
Other districts also developed their own Sports Associations. Athletics contests and soccer matches between King George VI School (q.v.) at Auki on Malaita, and All Hallows' School at Pawa (q.v.) at Ugi began in 1959, joined in August 1964 by St. Barnabas' School (q.v.), Alangaula Ugi. Malaita held a District Athletic Championship at King George VI School in November that same year, with twenty-three schools and districts represented.
In late 1963, eight Solomon Islanders travelled to Australia to undertake a two-month referees' course run by the Queensland Soccer Referees Association. The Honiara Rugby Union Football Club was formed in April 1964, and a Bicycle Club was formed in Honiara in July that year with the aim of affiliating with the Amateur Cyclists' Union. The first Honiara Road Race was held, and won by John Palmer Hagagensia of the Training College. The Auki Football League and the Gizo Football League held their first games on 7 and 14 May 1966, respectively. Women's basketball competitions had begun on Malaita, and school athletes from all over Malaita competed at the sports field on 28 May 1966. That May, too, four hundred people attended a sports meeting at Hograno on Isabel. (NS 7 May 1966)
Solomon Islands students who studied overseas often came home proficient in a variety of sports and raised local standards. During 1962, the South Pacific Commission founded the South Pacific Games (now the Pacific Games). Solomon Islands teams have taken part in them all since the first in Suva, Fiji in 1963, although the Solomons have yet to host the event. Initially, the games were held at three-year intervals, but that was changed to every four years. BSIP participants competed at the 1966 South Pacific Games in Noumea in athletics, soccer (played barefooted) and netball: the first Solomon Islanders to win medals in an international competition were Vincent Biri of King George VI School who won a bronze medal in the triple jump, and George Lepping (then studying agriculture in Papua New Guinea, and later Governor-General) who won a silver medal. In the 3rd South Pacific Games in Port Moresby, Papua New Guinea in 1969, Solomon Islanders gained second place in the triple jump and long jump, and the rugby team won third place. (AR 1969, 85) In 1971, the Protectorate sent a team of twenty-six to the 4th South Pacific Games in Papeete, Tahiti. They returned with two silver and two bronze medals, the best result to date. The main strength of the team lay in the female athletes, who won three of the four medals. (AR 1971, 5)
During 1971, an inter-island rugby series for the Anderson Shield was successfully completed and soccer teams competed for the Rothman Cup in Honiara. Amateur boxing was introduced in 1969. In 1972, the Solomons sent a team of boxers to the New Hebrides and a Bougainville rugby team made a five-match tour of the Solomons. (AR 1971, 103)
An Amateur Sports Association was formed in the late 1960s that affiliated the following national bodies: the Amateur Athletics Association, the Basketball Association, the Amateur Boxing Association, the Cricket Association, the Netball Association, the Amateur Football Association (also affiliated to the English Football Association) and the Rugby Football Association. In addition, the following local organisations were affiliated: golf, hockey, judo, table tennis, skin diving, underwater spear fishing, and volleyball. Netball leagues were organised in Honiara for girls, and the game was also played in some larger villages where it was organised by Women's Clubs (q.v.). (AR 1969, 85) The Honiara Golf Club was at the eastern end of town on part of what had been Fighter II, a Second World War airfield. Tulagi and Auki both had very early golf courses, but the modern-day Auki Golf Club was not founded until 1968. (NS 31 Jan. 1968)
Hard-court tennis was played in all district centres and yachting and powerboat racing were popular in Honiara under the auspices of the Point Cruz Yacht Club. Many of these sports were expensive and were initially more for expatriates than Solomon Islanders. Gradually, however, Solomon Islanders began to participate, particularly those who had been exposed to organised sports at schools in the Protectorate and overseas. Competitive swimming was one of the first local sports, along with soccer and cricket. In 1970, school children at Yandina were being coached in completive swimming and there were two swimming pools in Honiara, at the Police Club and the Guadalcanal Club. Another pool was built at the Community Centre in 1973, although it was expensive to maintain and closed after a few years. (NS 31 Aug. 1961, Oct. 1961, Mar. 1962, 31 July 1962, 15 Oct. 1962, 15 May 1963, 16 Aug. 1963, 15 Nov. 1963, 30 Nov. 1963, 30 Apr. 1964, 31 July 1964, 31 Aug. 1964, 7 Apr. 1966, 21 May 1966, 7 Nov. 1966, 19 Dec. 1966; AR 1970, 94, AR 1974, 121) See also Sports Grounds.
Related entries
Published resources
Books
Book Sections
Journals
Journal Articles
Reports
Images
Title

Anglican soccer team, 1907

Type

Image

Date

1907

Source

DOM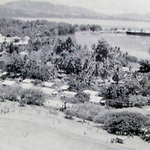 Title

Honiara Towns Sports Ground 1960s now Lawson Tama, Honiara

Type

Image

Source

Patrick Barrett
Title

Norfolk Island St Barnabas cricket team

Type

Image

Date

1890s

Source

DOM