Biographical entry:

Tuti, Dudley (1919 - 2006)
Born

19 September 1919

Died

31 January 2006
Details
Dudley Tuti was born on 19 September 1919 in Kia village in the west of Isabel, and spent his childhood in a rural environment. Raised by an aunt, he had no formal schooling until the age of twelve, when in 1931 he accompanied Father Richard Fallows (q.v.) to St. Mary's School at Maravovo (q.v.). He subsequently completed secondary school at Te Aute College at Hawkes Bay, after which he returned to teach at All Hallows' School at Pawa (q.v.) on Ugi. From 1952-1954 he was back in New Zealand for two years study at St. John the Evangelist College in Auckland. Tuti became a deacon of the Diocese of Melanesia (q.v.) in 1946, and was ordained a priest on 30 September 1954. After two years as Headmaster of Vureas School in the New Hebrides, he returned home to be priest for the Kia area and Headmaster of the local Litogahira boys' school. He was also made Rural Dean of Isabel. While at Kia he married Naomi Tate, with whom he had eight children. Tuti took his duties as Rural Dean very seriously and travelled around the island to remain in touch with the problems and concerns of the people.
Tuti was a member of the BSIP Advisory Council (q.v.) for many years, and also Chairman of the Isabel Education Committee. He often made trips overseas to represent the Anglican Church, for instance visiting New Zealand for three months in 1962 on lecture tours. He was consecrated as Assistant Bishop of the Diocese of Melanesia on 30 November 1963, along with his contemporary Leonard Alufurai (q.v.). They were the first Melanesians and the first Solomon Islanders to become Bishops in the Anglican Church. In 1966, Tuti and his wife spent four months in Britain at the invitation of a Diocese of Melanesian committee there, and they stopped in Vermont in the United States on their way home.
Tuti had a successful career as Bishop, during which he became the most influential figure on Isabel. Initially, Isabel was almost exclusively Anglican and priests there became powerful and influential leaders; the Bishop even more so. After he retired in 1982, he devoted himself to strengthening traditional leadership and Isabel cultural values. He became Paramount Chief of Isabel Island in 1975, and under his leadership the Isabel Council of Chiefs emerged, which received official recognition from Isabel Province in 1984. Tuti was knighted in 1988 and died on 31 January 2006. Tuti's life was spent serving his community, and his house at Jejevo was a crossroads for all people. However, late in life his reputation was marred somewhat by his role in the introduction of foreign logging on Isabel, which he said he did with the belief that it was necessary to give employment to the island's young people. (NS Sept. 1962, 31 May 1963; Fox 1958, 235-36; White 2006); http://archives.pireport.org/archive/2006/February/02-09-04.htm.
Related entries
Published resources
Books
Fox, Charles E., Lord of the Southern Isles: Being the Story of the Anglican Mission in Melanesia, 1849-1949, Mowbray, London, 1958. Details
Journals
British Solomon Islands Protectorate (ed.), British Solomon Islands Protectorate News Sheet (NS), 1955-1975. Details
Journal Articles
White, Geoff, 'Remembering Tuti: Isabel Bishop, Chief, Visionary', Pacific Islands Report, Pacific Islands Development Program/East-West Center, vol. February 2, 2006. Details
Images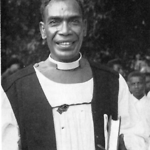 Title

Bishop Dudley Tuti, Anglican Church

Type

Image

Date

1964

Source

DOM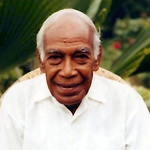 Title

Rev. Dudley Tuti, Anglican Church

Type

Image

Date

1970s

Source

DOM