Biographical entry:

Fatnowna, John Kwailiu Abelfai (1895 - 1919)
Born

1895

Died

1919

Alternative Names
Details
John Kwailiu Abelfai Fatnowna, Queensland sugar-plantation labourer and community leader, was in born about 1866, son of Luifera and Sauroro of the Rakwane descent group from Malaita. He was educated in the customs of his island, which in his youth had barely been visited by Europeans. Kwailiu lived on mountain slopes overlooking Fakanakafo Bay in the dialect area of Fataleka.
Kwailiu was recruited twice to Queensland: on the first occasion he was probably kidnapped but the second time he went willingly. Little is known of the first period except that he served out a three-year indentured term. He would have received the statutory payment of £6 a year plus food, accommodation and a limited supply of clothes. On his return to Malaita he married Orrani (Orawani) from west Fataleka. Soon afterwards, the couple was recruited for Queensland. As an experienced labourer, Kwailiu would have received a higher cash payment of perhaps as much as £10, but in other respects the conditions of his service would not have changed. It is probable that the couple worked for three years in the Innisfail district since their first two children were born on the Johnstone River (Innisfail) in 1891 and 1893. Having served their indenture, Kwailiu and his wife elected to remain in Queensland. As time-expired labourers they had much greater freedom of movement and their earnings, though much less than those of Europeans or Chinese wage-labourers, would have been greater than those serving their first indenture. As a woman, Orrani would always have earned less than Kwailiu.
By 1895, Kwailiu and Orrani had moved to Mackay where their next three children were born in 1895, 1897 and 1901. There they lived for the remainder of their lives, working on plantations and farms. Oral testimony from the present-day Islander community leaves no doubt that Kwailiu was one of the most important Malaitan leaders in the Mackay district, a conclusion confirmed by the unprecedented scale of his funeral in 1906. This pre-eminence depended entirely on descent and on force of character: despite his Christian funeral, he never became a Christian and unlike other leading Islanders who gained status from positions in a Christian Church or the Pacific Islanders Association, he held no position recognized by Europeans. Kwailiu's grandfather Dedeana had been a powerful leader of the Rakwane; if Kwailiu had returned to Malaita as he was often urged to, he would have assumed the position of fata'abu (priest) among the Rakwane. His cousin Fikui was sent to Queensland to search for Kwailiu but failed to persuade him to return home.
After Kwailiu's death from malaria on 25 March 1906 at Pioneer, Maggie Orrani married Luke Logomier (q.v.), another Fataleka man and lay preacher at St. Mary's Anglican Church at Farleigh outside Mackay. They both died in the influenza epidemic in 1919. Kwailiu's daughters married other Solomon Islanders at Mackay, as did their son, who adopted the surname Fatnowna. Their families are prominent in the present day Islander community. (N. Fatnowna 1989; T. Fatnowna 2002; Moore 1981, 1985, 96-97, 2000b)
Related entries
Published resources
Books
Fatnowna, Noel, Fragments of a Lost Heritage, Roger Keesing, Angus and Robertson, Sydney, 1989. Details
Fatnowna, Teresa, Faith of Our Fathers: A Journey of Three Fatnownas 1866-1999, Christine Fatnowna, Info, Mackay, Qld, 2002. Details
Moore, Clive, Kanaka: A History of Melanesian Mackay, Institute of Papua New Guinea Studies and the University of Papua and New Guinea Press, Port Moresby, 1985. Details
Book Sections
Moore, Clive, 'Fatnowna, John Kwailiu Abelfai (1866?-1906)', in Bede Nairn;Geoffrey Serle (ed.), Australian Dictionary of Biography, vol. 8 (1901-19, Melbourne University Press, Melbourne, 1981, pp. 473-474. Details
Moore, Clive, 'Fatnowna, Harry Norman (1897?-1967)', in Australian Dictionary of Biography, Vol. 14 (1940-1980), Melbourne University Press, Melbourne, 1996, p. 146. Details
Moore, Clive, 'Fatnowna, Oliver Noel, 1929-1991', in Brij V. Lal;Kate Fortune (ed.), The Pacific Islands: An Encyclopedia, University of Hawaii Press, Honolulu, 2000b, pp. 112-113. Details
Images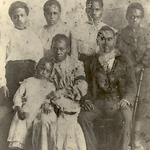 Title

John Kwailiu Abelfai Fatnowna and his wife Orrani were the founders of the Fatnowna family in Australia. He died in 1906.

Type

Image

Date

1906

Source

Clive Moore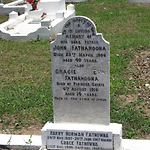 Title

The headstone of John Kwailiu Fatnahoona (Fatnowna), Malaitan leader at Mackay, Queensland, Australia, born c1866, died 1906, and his child Gracie Eva, Harry Norman and Grace.

Type

Image

Date

1900s

Source

Clive Moore

Title

This short staff was brought to Mackay, Queensland, Australia by John Kwailiu Fatnowna from Malaita in the late 1880s.

Type

Image

Date

1979

Source

JCU