Biographical entry:

Fatnowna, Harry Norman (c. 1897 - 1967)
Born

c. 1897

Died

25 June 1967
Details
Harry Norman Fatnowna, sugar farmer, lay preacher and community leader, was born circa 1897 on Palms estate, near Mackay in Queensland, Australia, the fourth of five children of Malaitans John Kwailiu Abelfai Fatnowna (q.v.), plantation labourer, and his wife Maggie Orrani. In 1906, Maggie married her kinsman Luke Logomier (q.v.), a lay preacher at St. Mary's Anglican Church in Farleigh. Harry was educated at the local school and became a labourer at Palms. By 1918, he owned a small cane farm at Farleigh. On 20 February that year, at Holy Trinity Church in Mackay, he married a Solomon Islander named Grace Kwasi, with whom he was to have fourteen children. Succeeding his stepfather as lay preacher at St Mary's in 1919, Fatnowna attended the Anglican Synod at Townsville in 1921 and was held in high regard in the church. By 1922, the family had moved to Eulberti, a farm near Eimeo owned by Peter Christensen, where they remained for thirty-four years, working for the local farmers and growing their own crops.
Despite attempts by the Anglicans to retain him, in the early 1920s Fatnowna was converted to Seventh-day Adventism and took half his congregation with him. In 1925, he organized the building of the first Adventist church in the district. With his eldest son Norman, he proselytized among the Islanders, and by the 1930s there were three more Adventist congregations. Fatnowna was a gifted orator, and a dynamic and respected leader, and helped to strengthen members of the Islander community in the rural areas around Mackay who were suffering from poverty and racial discrimination. In 1932-1934 he opposed the establishment of a segregated primary school for Islanders at Walkerston and helped to clear Crown Land at Nulla, near Bloomsbury, for an Islander farming settlement. Later in that decade Fatnowna obtained a perpetual lease of five hectares from a local farmer for his family at Etowrie. In 1956, he moved with them to Andergrove where they purchased two hectares.
His accounts book and diary, kept from 1939 to 1961, revealed a methodical, careful man. The Fatnownas had much in common with others in the Islander community, but in some ways they were exceptional. In typical fashion, their Eulberti home was grass-thatched and constructed in Malaitan style, with a men's house and a main house. Yet the family was comparatively affluent, possessing a horse and sulky, bicycles, and later a utility car. They also had a piano (unheard of for an Islander family) and Fatnowna took and developed his own photographs (also unique). His children, who became leaders in the Seventh-day Adventist Church, were well educated by the rural standards of the time. In 1932, the Fatnowna's eldest son Norman had been the first Islander to attend Mackay High School.
Harry mixed with leading Europeans in the district and numbered the barrister W. A. Amiet and the politician Ernest Evans among his friends. Fatnowna remained an elder of the Farleigh Adventist Church until silenced by a stroke in 1962. He died of broncho-pneumonia on 25 June 1967 at Mackay and was buried in the local cemetery. He was survived by his wife, seven sons and three daughters. A street in Andergrove was named after him. (Moore 1996, 2000b)
Related entries
Published resources
Books
Moore, Clive, Happy Isles in Crisis: The Historical Causes for a Failing State in Solomon Islands, 1998-2004, Asia Pacific Press, Canberra, 2004b, ix, 265 pp. Details
Book Sections
Moore, Clive, 'Fatnowna, Harry Norman (1897?-1967)', in Australian Dictionary of Biography, Vol. 14 (1940-1980), Melbourne University Press, Melbourne, 1996, p. 146. Details
Images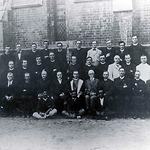 Title

Harry Fatnowna attending the Anglican Synod, Townsville, 1922

Type

Image

Date

1922

Source

JCU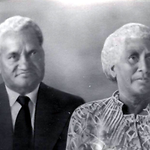 Title

Harry John Fatnowna and his wife Grace

Type

Image

Date

1950s

Source

JCU