Biographical entry:

Baddeley, Walter Herbert
Details
Burns Philp & Co. (known throughout the Pacific as BP) began in Australia as wholesale traders and shippers. Their headquarters was initially in Townsville but later moved to Sydney. The company developed extensive interests throughout neighbouring Pacific areas in wholesale, retail, shipping and plantations. Europeans in the Pacific said that BP's initials stood for 'Bloody Pirates'. Burns Philp began a steamer service to the Solomon Islands in 1894, which became regular in 1896, using SS Titus, replaced two years later by the larger SS Moresby. (Golden 1993, 415) The company was also responsible for returning most of the labourers deported from Australia in 1906-1908. BPs initial trading ventures in the Solomon Islands were all ship-based, carried out while anchored at Gizo or Tulagi, or Faisi in the Shortlands. Small traders gravitated to the visiting steamer, which unloaded passengers and freight and sold goods direct from its trade-room.
In 1901, Burns Philp & Co. refused Lars Neilson's offer to sell the company Gavutu Island (off Nggela Sule, near Tulagi). Neilson sold his properties instead to Karl Oscar Svensen (q.v.) and in 1903 Svensen offered Gavutu, land on Guadalcanal and the eastern Solomons for use as trading depots and plantations for £2,500, but the company was not interested in developing land bases. In 1902, they contracted to run a steamer service for Papua, Solomon Islands and the New Hebrides (Vanuatu) in return for an annual Australian government subsidy (which only began to be phased out in 1967). (NS 20 Oct. 1967) To secure its trading interests, Burns Philp & Co. began lending money to traders and planters. In 1904, they purchased eight hundred acres of plantation land in the Shortland Islands, including commodious Faisi Harbour, as settlement of mortgages from trader families (the Tindals and the McDonalds (q.v.)) who were indebted to Hernsheim & Co., a German New Guinea (q.v.) company. In 1910, this became Shortland Islands Plantations Ltd. Burns Philp also opened a trading store in Gizo in about 1906. The company faced stiff trading competition from Levers Pacific Plantations Pty. Ltd. (q.v.), which had purchased its own ship, SS Upolu, and was undercutting established copra prices. Burns Philp was also locked out of German New Guinea, by the government-subsidized Norddeutscher Lloyd Line. There was little option but to acquire more land to begin plantations and thereby regain a competitive position. They purchased the land and interests of the Hamilton brothers for £8,000. This included pearling, fishing and plantation interests in the Manning Strait Islands, four hundred acres of which were planted with coconuts-including half of Vaghena, the largest island in the Manning Group.
Burns Philp also applied for land under the Waste Land Regulation, and in 1908 formed a subsidiary, the Solomon Islands Development Company Ltd. (q.v.), with £100,000 to develop plantations. This was the first indication of their intention to begin a serious plantation interest in the Protectorate, although the plan was to keep the plantation operation separate from their shipping and trading interests. The company wanted to purchase ten thousand acres of grassland on the Guadalcanal Plains (q.v.). Their first new acquisition was at Muvia, inland from Tetere on Guadalcanal, which they hoped to be able to freehold, but the Melanesian Mission (q.v.) discouraged the local people from alienating their land. When their competitors Levers Pacific Plantations Pty. Ltd. purchased Lars Neilson's properties, including valuable Gavutu Island near Tulagi, for £40,000, Burns Philp was forced to pay £30,000 for nearby Makambo Island as their main trading base. (Golden 1993, 68-69)
Direct purchase of non-alienated land by non-indigenous people was forbidden starting in 1912, although the Resident Commissioner was able to lease lands to suitable applicants. Resident Commissioner Woodford (q.v.) tried to get the Colonial Office to grant five thousand acres of freehold but was rebuffed. Burns Philp began a newspaper war against the Colonial Office decision. Eventually they received 999-year leases over Ngalimbiu (on a river) and Gavaga (on the coast), with the earlier Muvia land converted to the same millennium lease. Burns Philp operated its plantations through subsidiaries such as the Solomon Islands Development Company and Shortland Island Plantations. During the 1930s, Burns Philp suffered from the large downturn in the copra industry, and had to reduce much of its trade and also its management fees. Just before the Second World War, in 1941, the company had plantations at Gavaga (Tetere), Mberande and Muvia on Guadalcanal. Burns Philp's plantations were devastated during the war, its European clients were bankrupted or died and its retail trade ended. Its subsidiary, Solomon Islands Development Company, sold its plantations at Tetere and Tetepare to the government, to individuals (Luti Plantations), and to villagers (in Manning Straits).
Burns Philp never re-established its Solomon Islands interests, and aside from shipping services between Australia and the Protectorate, which were part of larger Pacific circuits, the company concentrated more on developing its Papua New Guinea assets. (Bennett 1987, 129-130, 133-139, 143-145, 287, 303, 308; Buckley and Klugman 1983, 307-312)
Related entries
Published resources
Books
Bennett, Judith A., Wealth of the Solomons: A History of a Pacific Archipelago, 1800-1978, University of Hawai'i Press, Honolulu, 1987. Details
Buckley, Ken, and Klugman, Kris, 'The Australian Presence in the Pacific': Burns Philp 1914-1946, George Allen and Unwin, Sydney, 1983. Details
Golden, Graeme A., The Early European Settlers of the Solomon Islands, Graeme A. Golden, Melbourne, 1993. Details
Journals
British Solomon Islands Protectorate (ed.), British Solomon Islands Protectorate News Sheet (NS), 1955-1975. Details
Images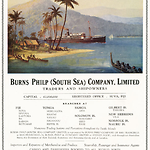 Title

Burns Philp (South Sea) Co. Ltd. Poster

Type

Image

Date

1930s

Source

SIG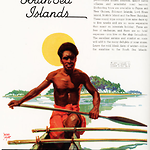 Title

Burns Philp (South Sea) Co. Ltd. Poster

Type

Image

Source

SIG