Biographical entry:

Molyneux, Frederick Merivale (1885 - 1948)
Born

1885

Died

1948
Details
Frederick Merivale Molyneux was the sixth Bishop of Melanesia from 1928 to 1931. Born in 1885 to the Rev. Frederick E. Molyneux and his wife Rosa, he was educated at Rossall School in Lancashire and at Keble College, Oxford University, where he earned a B.A. in 1908 and an M.A. in 1913. He attended Cuddesdon Theological College in 1908, became a curate at Ripon (1909-1913), chaplain at Cuddesdon (1913-1920) and a chaplain to the British Forces serving in Mesopotamia (1916-1919), for which he received an M.B.E. From 1920 to 1925 he was a vicar near Oxford, and then became Assistant Bishop in the Diocese of Melanesia in 1925, working mainly in the New Hebrides. He was nominated by the Synod of Melanesia to succeed Bishop Steward (q.v.), and the Bishops of New Zealand confirmed the choice in 1928. In 1931 John Hubert Dickinson replaced him as Assistant Bishop in the New Hebrides.
Molyneux inherited a diocese already in debt and governed it during the early years of the Great Depression, which meant less financial support was received from the Australian, New Zealand and English churches. The intake of students into mission schools had to be reduced, and in 1928 there was an outbreak of Poliomyelitis that led to quarantines. To add to the woes, the Southern Cross (q.v.) again needed to be replaced, which meant most travel was in a smaller vessel. The Depression progressed and the financial situation worsened, and in 1932 St. Michael's School at Pamua (q.v.) on Makira had to be closed and the boys there were removed to Maravovo.
Some advances were made, however. A new religious community began, the Community of the Cross (q.v.), which worked hard and well in the mission's girls' schools for the next twenty years, recruiting Melanesian women to their numbers. Molyneux was involved in the formation of the Melanesian Brotherhood (q.v.) and with J. M. Steward received Ini Kopuria's (q.v.) initial vows. He oversaw the expansion of the Melanesian Mission into New Britain, and the Mission prospered despite the loss of Assistant Bishop Wilton, who retired in ill health. And the long debate over whether to use Mota or English as the Mission's future lingua franca was finally resolved in favour of English.
Molyneux's tenure as Bishop was shorter than any other. In the coded writing of Rev. Charles Fox (q.v.), Molyneux developed 'unexpected weakness', and Mission senior staff met and then asked him to resign, which he did in November 1931. The truth was that he was involved in a homosexual scandal involving young Melanesians and was forced to leave. He returned to England, left the clergy, and became a farmer in Hampshire. Molyneux died in 1948. (Fox 1958, 78-82; Terry Brown, personal communication, 2008)
Related entries
Published resources
Books
Fox, Charles E., Lord of the Southern Isles: Being the Story of the Anglican Mission in Melanesia, 1849-1949, Mowbray, London, 1958. Details
Images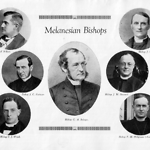 Title

Anglican Bishops Cecil Wilson, J.C. Patteson, C.J. Wood, G.A. Selwyn, J.R. Selwyn, L.M. Steward and F.M. Molyneux.

Type

Image

Date

1920s

Source

DOM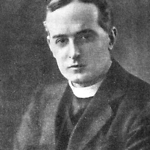 Title

Bishop Frederick M. Molyneux, Anglican Bishop of Melanesia, 1928-1931

Type

Image

Date

1925

Source

DOM