Concept:

Walkabaoti long Saenataone (Walkabout in Chinatown)
Details
Walkabaoti long Saenataone, the best-known song from the Solomon Islands, was written in the 1960s by Edwin Sitori. The song is now part of the popular cultures of Papua New Guinea and Vanuatu.
Solomon Dakei and his group 'The Solomon Islanders' made the first recording of the song, along with 'Auki Love Song', at the Solomon Islands Broadcasting Corporation studio in January 1959. It was distributed as a 45 r.p.m. record by the South Pacific Commission. The BBC General Overseas Service gave the song world-wide coverage by playing it on 19 and 20 March 1959. (NS Jan. 1959, Feb. 1959) In Solomons Pijin, it describes aimlessly walking about in Honiara's Chinatown, and the trials of living in the foreign urban setting, separated from home and loved ones. It struck a chord of recognition with many rural Pacific peoples faced with the alienation of life in town. It was later recorded by Viking Records.
Wokabaoti long Saenataone
Wokabaoti long Saenataone
Mekamu kosi angga long kona,
Suti apu sekem hedi,
Kikim baket enikaeni,
Iasi iu laf hafu sens wata nating.
Tingting baek long iu,
Lusim hom long taem,
Tu yia ova mi no lukim iu,
Tasawai mi no laekim iu,
Man I karangge hed I luism mani.
Namata mi dae long Honiara,
Samting mi lus long taem long iu,
Bat sapos iu ting long me,
Iu kan weit fo tu yia moa,
Letem kam laet sikin lelebet.
Walkabout in Chinatown
Walkabout in Chinatown,
Make a course for the corner,
Shoot, shake head,
Kick a bucket, any kind
Yes you laugh, mad, water on the brain.
Think back to you,
A long time since leaving home,
More than two years haven't seen you,
Which is why I don't like you,
Man stupid, stupid head to lose money.
Doesn't matter if I die in Honiara,
What's lost, is lost a long time with you,
But if you think of me,
You can wait for two year more,
Let my skin get a little lighter here.
Related entries
Published resources
Journals
British Solomon Islands Protectorate (ed.), British Solomon Islands Protectorate News Sheet (NS), 1955-1975. Details
Images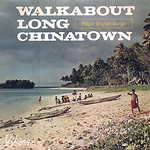 Title

Walkabout Long Chinatown, Viking recording

Type

Image

Date

1970s

Source

Brian Taylor