Concept:

Music
Details
Solomon Islands music traditionally used the voice, percussion, panpipes and flutes and various other instruments. Women, especially in parts of Malaita and Isabel, sing lullabies and gently tap small bamboo sticks on flat river stones. The piping music they produce is a softer and more melodious counterpart to men's panpipes. Men also play 'Jews Harps', using their mouths and a taunt plant fibre (now plastic fishing line), to create a harmonic effect. Large and small slit-drums are made from hollowed tree trunks, and can be used to send massages as well as for music.
The Solomons is the only Pacific Islands area where traditional music is polyphonic. The first electronic recordings of Solomon Islands traditional music were made by George Milner of the School of African and Oriental Studies, University of London, who spent six months in the islands during 1952, and recorded languages and music from Malaita, Rennell and Bellona, Lord Howe and the Western Solomons. In 1969 and 1970, ethnomusicologist Hugo Zemp led a team from the French Centre for Scientific Research, which recorded traditional music on Ontong Java, Malaita, Guadalcanal and Savo. One of his recordings became infamous-a Baegu lullaby was appropriated without compensation by the group Deep Forest and became the subject of international investigations into indigenous intellectual property rights. (Zemp 1971, 1972, 1996)
Music making often went hand-in-hand with dancing and was related to ancestral religion and cultural celebrations such as mortuary festivals. Dancing and music making can include both men and women. Dancing accompanies most musical events, although some Christian denominations have discouraged dancing because of its supposed connections to indigenous religions. The most ubiquitous modern music is by string bands and panpipe dance groups. The panpipes originally used a different tonal scale than European music, but this was modernized during the 1960s and 1970s. Percussion orchestras play large bamboo or polythene pipes constructed of different lengths and sizes and struck with rubber thongs, often accompanying panpipes.
The Solomon Islands Broadcasting Corporation (q.v.) was instrumental in recording a great deal of both traditional and modern music, and a Chinese businessman created a local recording industry in the 1970s, initially based on cassette tape production. The most famous song from the Solomon Islands was recorded by Fred Maedola (q.v.) in the 1960s with Viking records; 'Walkabout Long Chinatown' (q.v.), written by Edwin Sitori, became a classic in the Pacific. It lyrically describes the delights of wandering through Honiara's Chinatown. There is now a buoyant modern music industry with a large number of traditional, string and reggae bands, which recorded initially on cassettes and now make CDs. (PIM July 1952; NS 15 Sept. 1972)
Related entries
Published resources
Book Sections
Collectif, '. 'Solomon Islands'', in The Garland Encyclopedia of World Music: Australia and the Pacific Islands, The Garland Encyclopedia of World Music, New York and London, 1998, pp. 630-670. Details
Journals
Pacific Islands Monthly. Details
British Solomon Islands Protectorate (ed.), British Solomon Islands Protectorate News Sheet (NS), 1955-1975. Details
Journal Articles
Images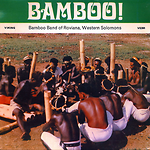 Title

Bamboo!, a Viking recording of a Bamboo Band from Roviana, Western Solomons

Type

Image

Date

1960s

Source

Brian Taylor
Title

Fred Maedola's Pidgin Songs, a Viking LP recording

Type

Image

Date

1977

Source

Brian Taylor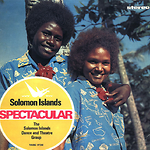 Title

The Solomon Islands Dance and Theatre Group, Solomon Islands Spectacular, Viking Studion Stero LP, 1955

Type

Image

Date

1955

Source

Brian Taylor