Party:

Fiji Solomon Islanders (Solomoni)
Details
Between 1870 and 1914, 8,228 Solomon Islanders worked as indentured labourers on Fijian cotton and sugar plantations. They worked alongside a large number of mainly men from the New Hebrides (Vanuatu) and also labourers from India, both men and women. Just as with the Queensland labour trade, many of the early recruits were obtained by illegal means, but as the decades rolled on the pattern of circular migration meant that the conditions in Fiji became common knowledge. Many men went to Fiji twice, or to both Fiji and Queensland. Wages in Fiji were less than in Queensland, but men did not always go for monetary reasons-some went to visit relatives already there. Fijian society was quite different from that in Queensland; there was a dominant indigenous presence, and there were also IndoFijian labourers. Solomon Islanders there worked alongside other Melanesians, and there were Europeans from England, Australia and New Zealand. Solomon Islanders learnt a Pijin form of Fijian which they brought back to the Solomons.
The last Solomon Islands labourers were taken to Fiji in 1911 and most of them, after serving the standard three-year contracts, returned home by 1914. There was no mass deportation as occurred in Australia in the 1900s, and a considerable number remained in Fiji and formed a Solomoni community there. As early as the 1880s, many of the formerly indentured labourers had started to form communities in the vicinity of Levuka and Suva. Indian indenture ended in 1916, and the Colonial Sugar Refining Co. (CSR), the monopoly company, subdivided their estates and leased land to their former Indian workers. The immigrant Melanesians were totally marginalized, although not so badly as in Australia, where the original generation were banned from the sugar industry. The Solomon Islanders who stayed in Fiji were left living on the fringes of society without tenure to land.
In the 1920s, the land available to the Solomon Islands community was reduced in size since urban land was needed. In the early 1930s, the Melanesian Mission started pastoral work among them, sending Anglican Melanesian Brothers Dudley Bale and Moffat Ohigita, and later Alfred Lombu. Moffat Ohigita was later ordained there. In the 1940s, the Anglican Church established Wailuku as a Melanesian settlement. In the 1950s, they became established at New Town, Tamavua-i-wai, Caubati, and Matata, all on the outskirts of Suva.
There has been some re-linking with home communities in the Solomons, although not so much as has occurred with the Australian South Sea Islander descendants. (Siegel 1985; Fox 1958, 80; Halapua 1987, 2001; Corris 1973b; Gina 2003, 124-125; Summy 2009; Tapu 1987)
Related entries
Published resources
Books
Book Sections
Halapua, Winston, 'Matata: Solomonis in Town', in Leonard Mason;Pat Hereniko (ed.), In Search of a Home, Institute of Pacific Studies, University of the South Pacific, Suva, 1987, pp. 41-55. Details
Tapu, Talalelei, 'The Solomonis of Ovalau, Fiji', in Leonard Mason;Pat Hereniko (ed.), In Search of a Home, Institute of Pacific Studies, University of the South Pacific, Suva, 1987, pp. 27-40. Details
Journal Articles
Siegel, Jeff, 'Origins of Pacific Island Labourers in Fiji', Journal of Pacific History, vol. 20, no. 2, 1985, pp. 42-54. Details
Summy, Hilary, 'Fiji's Forgotten People: The Legatees of 'Blackbirding'', Social Alternatives, vol. 28, no. 4, 2009, pp. 39-44. Details
Images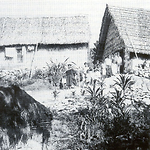 Title

Solomon Islanders living in Fiji in the late 19th century

Type

Image

Date

1890s

Source

Ben Burt