Place:

Duff Islands
Details
The Duff Islands are occasionally called the Wilson Islands, both names derived from the 1797 visit there by the London Missionary Society ship the Duff, captained by Captain James Wilson. The chain of small, stark volcanic islands runs thirty-two kilometres northwest to southeast, and lies 160 kilometres from Utupua Island (q.v.), to the northeast of the Santa Cruz Islands (q.v.). Taumako is the highest at four hundred metres; it and Lakao are the largest and there are nine smaller islets.
The Duffs are thought to have first been settled in the ninth century BC, around the same time as Anuta (q.v.) and Tikopia (q.v.). Locally manufactured Lapita pottery is found there, which ceased to be made in the first millennium AD, at a time when several new cultural traits were introduced such as basalt adzes. There were clearly a series of contacts and influences from other islands and societies. (Kirch 1984)
The artificial Tahua Island existed when the explorer Quiros sighted the islands in 1606. In the 1930s, Tahua measured only 100 by 150 metres, and walls divided the single village there. During the 1950s the entire Duff Islands population lived on Tahua. The people speak a language called Pileni, which belongs to the Samoic branch of the Polynesian languages. The submarine reef called Hallie Jackson lies forty-five kilometres west of the Duff Islands. Old Melanesian Mission charts show an inhabited 'Kennedy Island' about a hundred kilometres to the northwest, but it seems to have disappeared below the water sometime in the late nineteenth century. Colin Allan in 1956 spoke to a woman about seventy years old who recalled that when she was a young adult a dysentery epidemic had killed many people in the Duffs.
Duff Islanders earned cash by diving for trochus and green snail shells, and also built large ocean-going outrigger canoes and sold smaller ones for use in inter-island trade. These islands were included in Eastern District. The Santa Cruz Islands, the closest substantial islands to the Duffs, came under direct Protectorate's administration only in 1923, and the Duffs remain one of the Solomons most isolated areas. (Tedder 2008, 108; Allan 1990, pt. 2, 134, 139)
Related entries
Published resources
Books
Allan, Colin H., Solomons Safari, 1953-58 (Part II), Nag's Head Press, Christchurch, 1990. Details
Leach, Foss, and Janet Davidson, Archaeology on Taumako. New Zealand, New Zealand Journal of Archaeology Special Publication, New Zealand Journal of Archaeology, Dunedin, 2008. Details
Tedder, James L.O., Solomon Islands Years: A District Administrator in the Islands, 1952-1974, Tuatu Studies, Stuarts Point, NSW, 2008. Details
Edited Books
Feinberg, Richard, and Richard Scaglion (eds), Polynesian Outliers: The State of the Art, Ethnology Monographs, No. 21, University of Pittsburgh Press, Pittsburgh, 2012. Details
Journal Articles
Feinberg, Richard, 'In Search of Te Lapa: A Navigational Enigma in Vaeakau-Taumako, Southeastern Solomon Islands', Journal of the Polynesian Society, vol. 120, no. 1, 2011, pp. 57-70. Details
Feinberg, Richard, 'We the Taumako: Kinship Among Polynesians in the Santa Cruz Islands', Structure and Dynamics [http://escholarship.org/uc/search?entity=imbs_socdyn_sdeas;volume=6;issue=1], vol. 6, no. 1, 2013. Details
Kirch, P. V., 'The Polynesian Outliers: Continuity, Change, and Replacement', Journal of Pacific History, vol. 19, no. 4, 1984, pp. 224-238. Details
Images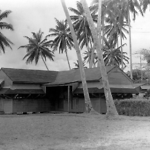 Title

Anglican Bishop's residence, Taroaniara, Nggela

Type

Image

Date

1930s

Source

DOM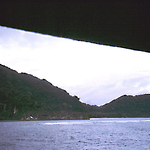 Title

Taumako artificial island, Duff Island, 1970

Type

Image

Date

1970

Source

DOM